The green and beautiful Jiri valley in the lap of the mountains is also described as a piece of heaven in Nepal. This place is also nicknamed the Switzerland of Nepal. The place is home to ethnic people called Jirels. In a peaceful and clean environment, the scenic view of the snow peaks like Langtang Himal, Ganesh Himal, Jugal Himal, Gaurishankar Himal, and the lovely natural shades here can captivate anyone's heart. This municipality was announced on the 28th of January 2071 including the former three ruler municipality. Located at an altitude of 1649 meters to 5341 meters above sea level, the total area of this municipality is 211.25 square kilometers. In earlier times, as there was no air transport facility, tourists used to trek from the district to climb Mount Everest. So this place was also called the gateway to Mount Everest. It takes seven or eight days to walk to Lukla. Only 5% of trekkers who try the tough trip to Everest Base Camp start in Jiri. So few people start a trek from there. The remaining 95% decide to fly into the tiny airfield in Lukla, shortening a week of challenging hiking. Although the "traditional path to Everest" begins at Jiri and extends to Sagarmatha National Park, the original trailhead was at Kathmandu.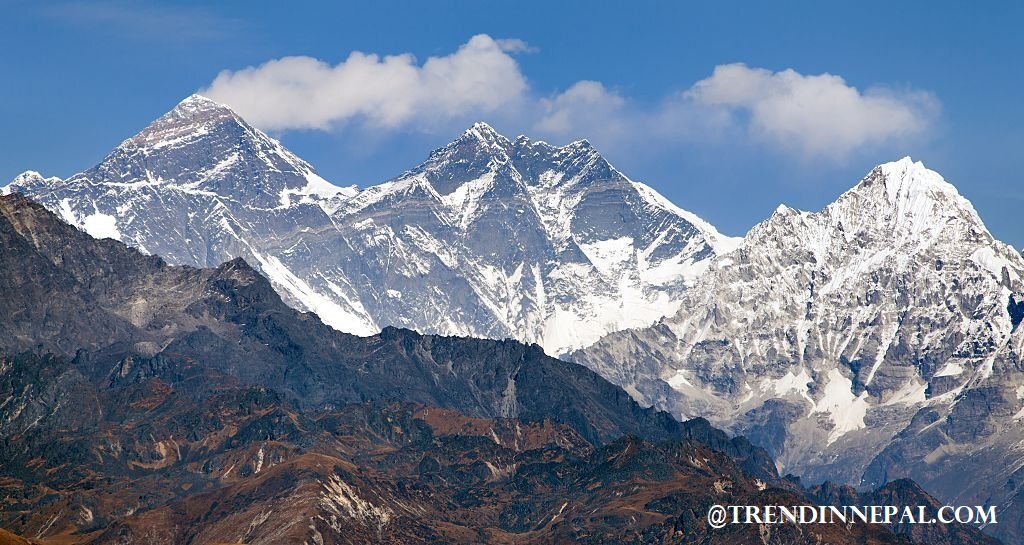 Nearly all Everest expeditions have traveled through Jiri, including the one led by renowned mountaineer John Hunt and Edmund Hillary. According to the census of 2068, the population of this municipality is 15515, of which 53.15 % are women and 46.03 % are men. The castes such as Chhetri, Jirel, Sherpa, Tamang, and Sunuwar live here. This municipality lies just 188 km from Kathmandu.  Jiri municipality is a hot spot for tourism.  Jiri municipality is an important place among the attractive destinations of Nepal due to its rich biological and cultural and religious diversity.  
To the east of the municipality is the Ramechap district, and to the west is Gaurishankar rural municipalities.  To the north is Gaurishankar rural municipality and to the south, is Tamakosi rural municipality and Ramechhap district.
Jiri municipality is a suitable area for agriculture. In this city, crops such as millet, barley, corn, wheat, rice, soybean, banana, beans, etc. are cultivated. 
Vegetables include potato, cauliflower, okra, and spice crops such as ginger, cardamom, onion, garlic, etc. Among all the agricultural products production of potatoes is high. The products include orthodox tea and yak cheese produced locally. Based on this, the agricultural municipality has identified a pocket area for potatoes, vegetables, chili peppers, and garlic. Since kiwi production is good at an altitude of 12 hundred to 24 hundred meters, Jiri municipality is a very suitable place for farming. The animal development work established in the year 2014 with the financial and technical support of the Swiss government has played a major role in the animal development of Jiri municipality. In this place, especially cattle, yaks, goats, pigs, etc. are reared. There are agricultural industries such as the dairy industry, and cattle, and poultry farms in the commercial sector are common.
Various road networks and roads are being developed in the municipality. Long and narrow roads connect Jiri with the national road network
As the roads are being gradually expanded in all the wards, the internal transport facilities are gradually increasing. The municipality has admirably managed the reconstruction works after being heavily affected by the 2072 earthquake. Jiri Municipality has completed many successful works and the road network has been expanded in all the wards. Electricity has reached all the villages, as well as drinking water at home.
A district hospital, 3 health posts, 3 basic health centers, and private dispensaries and clinics are providing health facilities in this city. The hospital established by Swiss in 2014 is a large healthcare provider organization in Jiri Municipality. Ambulance service is also available for critical patients in this 34-bedded hospital.
There are 19 primary schools, three basic schools, 10 secondary schools, three community learning centers, and one campus for teaching and learning in the municipality. Also, a world model district technical school is also running here. Established in 1982 in collaboration with the Government of Nepal and the Government of Sui, this educational institution has been producing skilled and skilled manpower covering the fields of agriculture, construction, and health.
Famous Place of Jiri Municipality
Jireshwor Mahadev Temple is the nearest tourist spot to Jiri, also known as the God of Farmers, this temple of Mahadev is situated over a small stream with a huge guard hole. Many other structures have been built in this temple, including the installation of an idol of a snake. There is a religious belief that by visiting Mahadev, one's wishes will be fulfilled and the crops and animals will flourish. 
Cherdung Dada lies on the border of Jiri Municipality at an altitude of 3500 meters, Cheordong Dada is a common pilgrimage site for Hindus and Buddhists. There is a popular belief that wild animals will not harm four-legged animals who do not get diseases if they worship at the Mahadev temple here. After traveling by motor from Jir Linkan Bazar to Cancee Pond, from there, after 3 hours of uphill walking, we reached the hill. Different types of Rhododendron and wild animals found in the dense forest during this trek add more entertainment to the journey.
Kali Devi Than is one of the major religious places in Dolakha. There is a popular belief that by seeing the goddess, one can achieve his/her dreams. 
On the route to Cherdung is Kalo Bhir.the view of three significant towns  Charikot, Dolakha, and Jiri can be seen as a single sight. It is a large rock and due to the high terrain and strong wind blows making difficult to stand on a cliff. Walking uphill from Jiri to Linkan Bazar takes four hours.
Previously the name of the hill was Bhir or Rang-rang Cliff. Teenagers today still like the name Ramite Danda. However, since Tony Began's monument was just installed, the area has been dubbed Tony Began Park. From Linkan Bazar, it is a 30-minute uphill hike to the northeast. A visitor's shelter is available with a drinking water facility.  In this location, cookouts are popular.