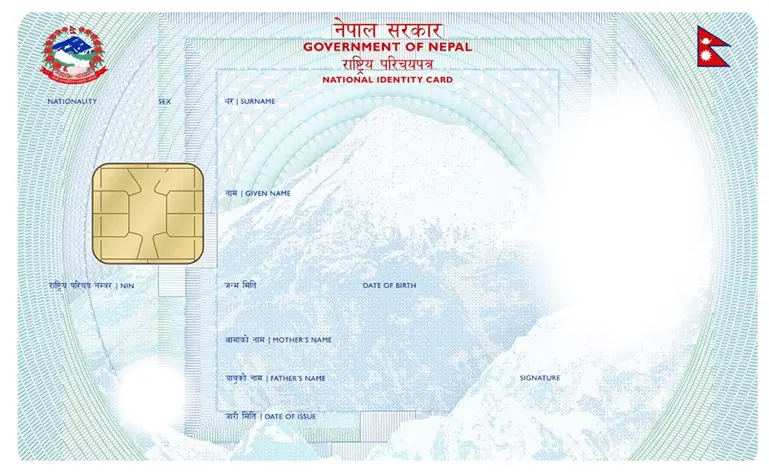 National Identity Card or Rastriya Parichaya Patra is a legal document issued by the government of Nepal and contains the citizens' identities. It serves as a federal-level identity card and contains personal information such as full name, permanent address, date of birth, photograph, biometric data, and other relevant details. This card is a digital solution for the identity verification of individuals and an important part of ensuring the security, safety, and efficient management of information in Nepal.
What is the National Identity Card (Rastriya Parichaya Patra)?
The National Identity Card, also known as Rastriya Parichaya Patra, is a digital identity card that holds all the personal and biometric data of Nepali citizens. Every card has a unique identification number known as "NIN" or National identification number, which is like a citizenship number. The government's Department of National ID and Civil Registration (DONIDCR) collects these data.
According to the DONIDCR, National ID Card will be used for multiple purposes as this one card can hold a lot of information compared to a Nagrita.
How to Apply for National Identity Card
Individuals who are Nepalese citizens and are 16 years or above can apply for the Rastriya Parichaya Patra. There are two methods to apply for the National Identity Card in Nepal: online registration and submitting the application form at a district administrative office.
Online Registration
The process for online registration for National Identity Card in Nepal is as follows:
Visit donidcr.gov.np
Click on Login for Individual (Enter your mobile & submit OTP)
Click on New Enrollment
Add your personal details
Add contact details (NID Card Number will be sent here)
Add family details (Parents and Grandparents Details)
Select desired appointment dates (For Biometrics)
After confirming, submit the application
Submitting the Application Form
To apply for the National Identity Card in Nepal by submitting the application form, you need to follow these steps:
Visit the district administrative office
Submit the application form(download from Below)
Get appointment dates for biometrics scanning
Rastriya Parichaya Patra form download pdf
You can download application form for National identity card from here:-
How to fill Rastriya Parichaya Patra Form?
Filling out the Rastriya Parichaya Patra form may seem like a daunting task, but it is actually quite simple once you know what information is required. This form is used to gather information about you and your family and is typically required for certain government or legal procedures.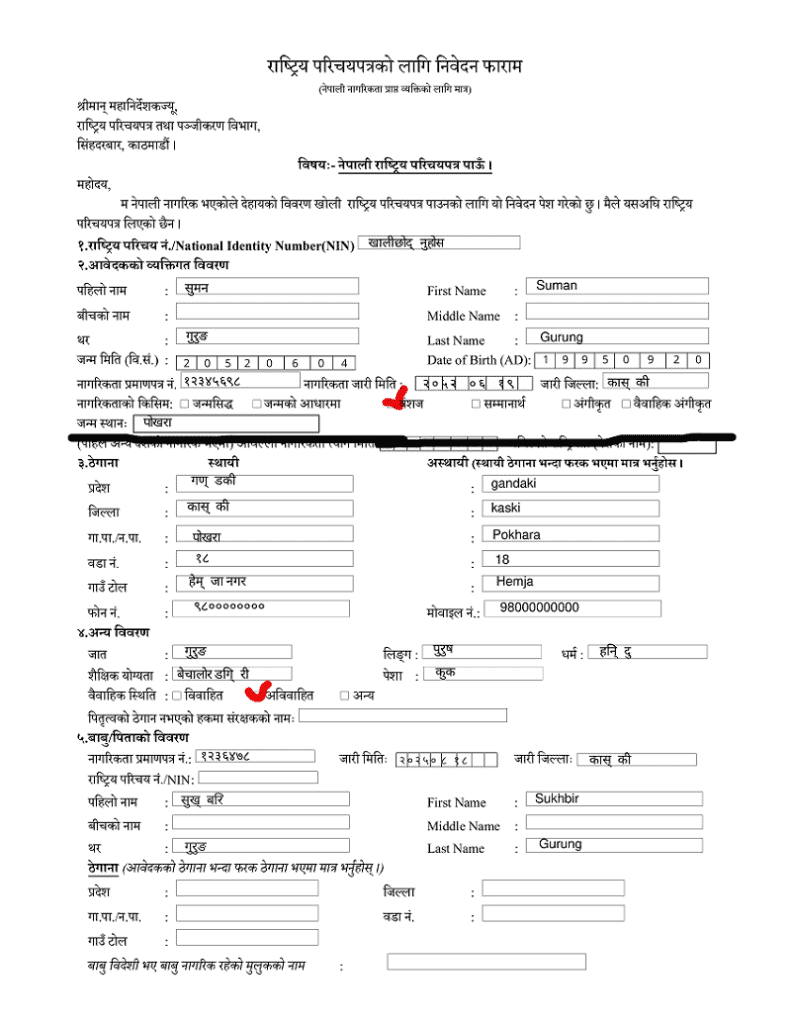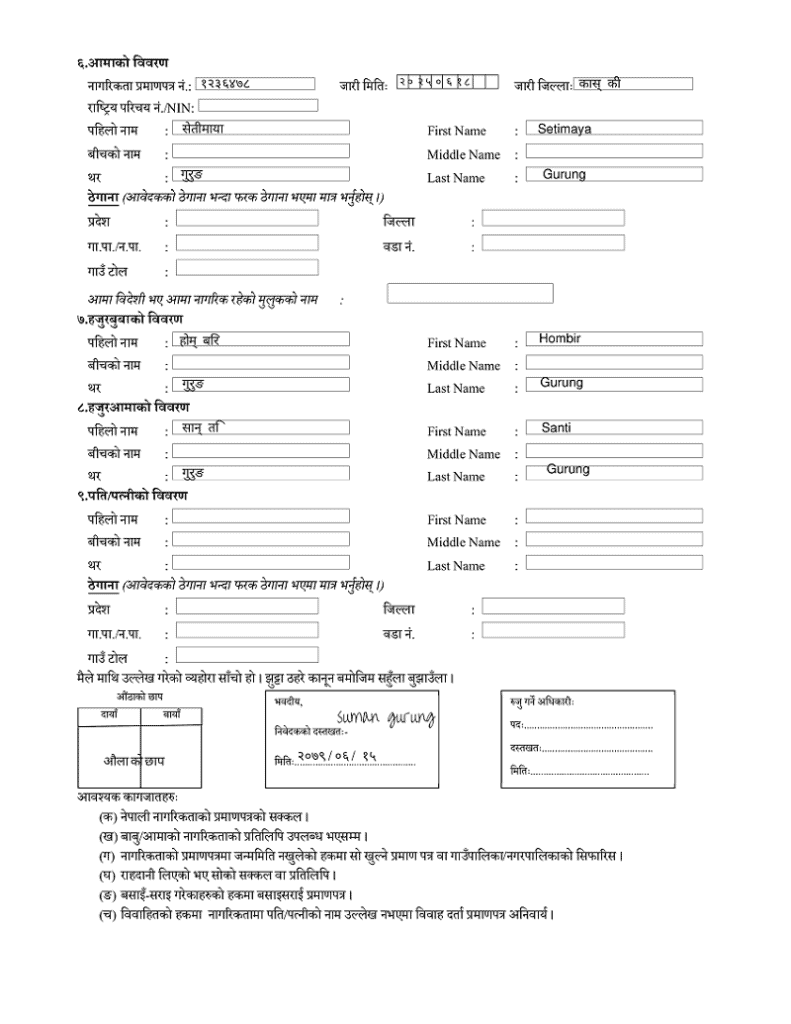 Documents Required for National Identity Card
The following documents are required to apply for National Identity Card in Nepal:
Application form
Passport size photo
Citizenship for identity verification
Parents' citizenship
Marriage certificate (for married people only)
Migration certificate "Basai Sarai" (if changed state permanently)
Death certificate (if your partner is no more)
When will I receive my National Identity card?
Upon submitting your National Identity Card application, you can expect to receive your national identification number via SMS in a matter of days. However, obtaining the physical card may take longer as it is a nationwide process. The preparation of the cards is handled by the Department of National Identity Card and Registration at Singha Durbar and then distributed to the District Administration Office in each state. The wait time for the card can be over a year. When the card is ready, you will be notified by phone to pick it up.
How to get National Identitification Number from Mobile SMS?
To retrieve your National Identification Number (NIN) through SMS, follow these steps after submitting your online application form:
Open your text messaging app.
Type "N" followed by a space and then the confirmation number you received after submitting the application form.
Send the message.
You should then receive a message with your NIN.
Eg. If you confirmation number is 1234567890 then type N 1234567890 send it to 30001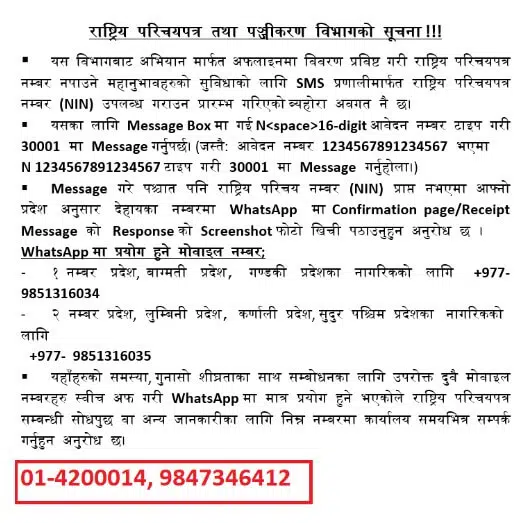 Conclusion
National Identity Card or Rastriya Parichaya Patra is an important legal document for Nepali citizens. By having this card, individuals can easily verify their identity and access various government services. The application process for National Identity Card is straightforward and can be done online or by submitting the application form at the district administrative office. By following the steps outlined above, you can easily apply for and receive your National Identity Card in Nepal.