About Bhaktapur Cancer Hospital
Bhaktapur cancer hospital is national-level cancer hospital in Nepal. In cooperation with both public private partnership like Nepal Government, Ministry of Health and Population, Bhaktapur Municipality, National and Rotary International Club, Nepal Cancer relief society and others organization. (Nepal cancer relief society is non-profit organization eatablished by Late Princess Jayanti Rajya Laxmi Devi Shah in 1928 A.D. ) The Bhaktapur cancer hospital was Established as a local community hospital in 2051. The hospital highly welcomes local community people and provides free cancer treatment facilities to poor and needy people by highly committed and dedicated doctors. 
Bhaktapur cancer hospital has been providing quality cancer treatment to  patients across Nepal at low cost with the help of Nepal government. In the context, a situation has been created and on the proposal of the Ministry of Health and Population, the meeting of the Council of Ministers held on the 24th of Kartik 2077 approved the formation order of Bhaktapur Cancer Hospital Development Committee 2077 and the service is being operated from 123 beds under the Ministry of Health and Population.
Currently, a full-time DM is being studied in medical oncology from the National Institute of Medical Sciences in the Bhaktapur hospital. Also, MD Residents in Radiation Oncology and Gynecology Oncology are posted for cancer specialist training and study in the Bhaktapur Hospital. Likewise, MD resident doctors and graduate and post graduate nursing students from medical educational institutions affiliated to Kathmandu University and Tribhuvan University come for experimental practice in Bhaktapur Cancer Hospital(Bhaktapur Hospital). Bhaktapur Cancer Hospital lies in Dudhpati- Bhaktapur.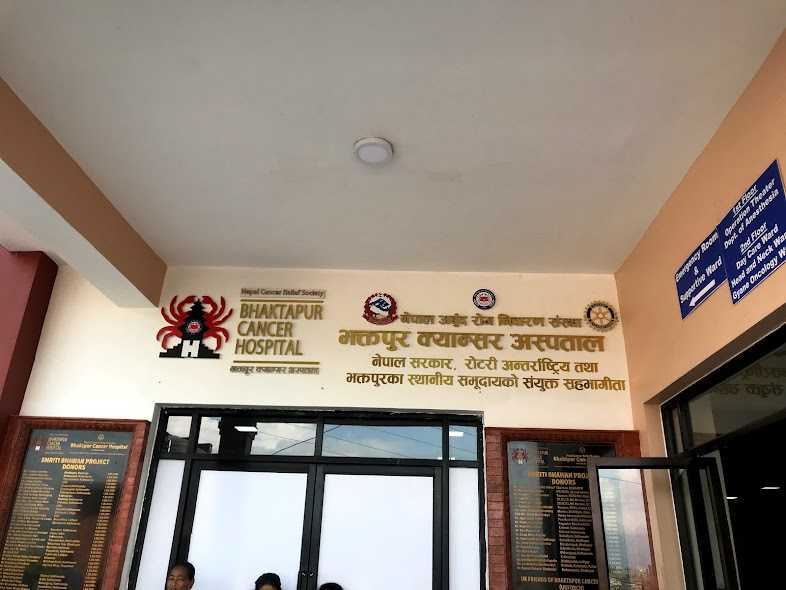 Objective Of Bhaktapur Cancer Hospital
To provide high-quality and compassionate medical care that is easily available to the patients.

To work with Nepal Cancer Relief Society and the local community people in the area of preventive oncology as well as early detection.

Provide palliative services including pain management and support for poor cancer patients.

Incorporate an electronic hospital management information system for hospital management.

In order to provide charity services and Palliative care services to the poor and vulnerable people.

For the purpose of conducting a registry for cancer and to conduct telemedicine.

Involvement in the Cancer Support Programs and curative programs with local community people.

Research work and academic work on cancer research.
Contact Information Of Cancer Hospital
Bhaktapur Cancer Hospital Doctors List
| | |
| --- | --- |
| S.N. | Name |
| OPD 1 | Radiation Oncology Department in Bhaktapur Hospital |
| Unit II | Dr. Suresh K. Maharajan |
|   | Dr. Sudhir Raj Silwal |
| Unit I | Dr. Ujjwal Chalise |
|   | Dr. Shweta Baral |
|   | Dr. Shiba Shrestha |
|   | Dr. Manoj Acharya |
|   |   |
| OPD 2 | Medical Oncology Department in Bhaktapur Hospital |
| Unit II | Prof. Dr. Bishnu Dutta Paudel |
|   | Dr. Prabhu Prasad Sah |
|   | |
| OPD 3 | Medical Oncology Department in Bhaktapur Cancer Hospital |
| Unit I | Dr. Roshan Prajapati |
|   | Dr. Sudip Thapa |
|   | Dr. Samikshya Pokharel |
|   |   |
|   |   |
| OPD 4 | Surgical Oncology Department in Bhaktapur Cancer Hospital |
| Unit I | Dr. Utsab Man Shrestha |
|   | Dr. Punya Ram Kharbuja |
|   | Dr. Manish Roy |
|   | Dr. Bikash Bhaila |
|   |   |
| Unit II | Prof. Dr. Rishikesh N. Shrestha |
|   | Dr. Deep Lamichhane |
|   | Dr. Suraj Suwal |
|   | Dr. Reshm Rana |
|   |   |
| OPD 5 | MSK Oncology Unit in Bhaktapur Hospital |
|   | Dr. Binayak Dhungel |
|   | Dr. Noor Prajapati |
|   |   |
| OPD 6 | Head and Neck Oncology Unit in Bhaktapur Cancer Hospital |
| Unit I | Dr. Bibek Khanal |
|   | Dr. Archana Amatya |
| Unit II | Dr. Sandesh Mainali |
|   | Dr. Rijendra Yogal |
|   |   |
| OPD 7 | Gynae Oncology Unit in Bhaktapur Cancer Hospital |
| Unit I | Dr. Shristee Prajapati |
|   | Dr. Usha Bade Shrestha |
|   | Dr. Ranjana Mandal |
| Unit II | Dr. Eliza Shrestha |
|   | Dr. Jasma Mally |
|   |   |
| OPD 13 | Pedatric Onocology Department |
|   | Dr. Sushma Gurung |
|   | Dr. Sristi Gautam |
|   |   |
|   | Anesthesia Department |
|   | Dr. Devaki Shakya Gubhaju |
|   | Dr. Arogya Kandel |
|   | Dr. Sajal Shakya |
|   |   |
|   | Radiology Department |
|   | Dr. Sunima Lama |
|   | Dr. Bikesh Twati |
|   | Dr. Bhanu Bikram Chand |
|   |   |
|   | Neuro Onco Surgery Unit |
|   | Dr. Rajeev Shah |
|   | Dr. Umesh Khaitu |
|   | Pathology Department |
|   | Dr. Abhimanyu Jha |
|   | Dr. Rakesh Pathak |
|   | Dr. Sanat Chalise |
|   | Medical Officer |
|   | Dr. Ananada Babu Dhakal |
|   | Dr. Anisha Khadka |
|   | Dr. Etna Khatiwada |
|   | Dr. Anil Naga |