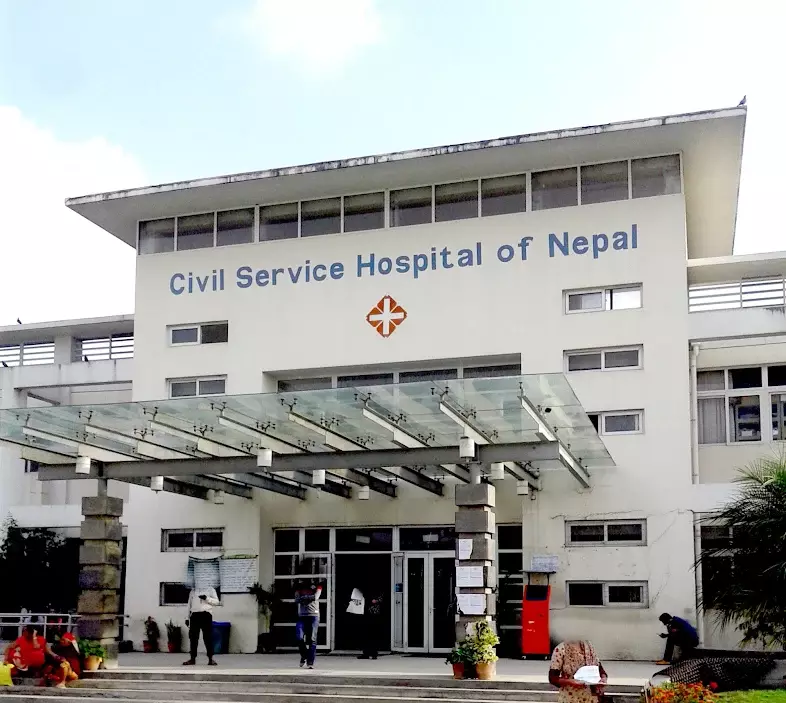 A civil Service hospital is a government hospital in Kathmandu or an autonomous government institution under the Ministry of General Administration (MoGA)., located in Baneshwor, Nepal. Although there is a different dedicated hospital for Nepali Army and Nepal Police personnel, there is no hospital for the Nepal Government civil servants, so there is a need for such a hospital. So due to the lack of such a hospital, the Nepal government requested the People's Republic of China (PRC) to build such a hospital. A seven-member hospital board with full executive powers has been formed for the hospital's operation with the cabinet's approval. The civil hospital board decides policies and programs in regular meetings chaired by the hospital board chairman. The Executive Director (ED) of the hospital manages and regulates the day-to-day operations of the hospital. ED is one of the board members and has a full-time paid job.
Prime Minister Sher Bahadur Deuba laid the foundation stone of the Civil Hospital. The 132-bedded and fully equipped hospital with modern health technology was handed over by the People's republic of china on November 14, 2008. The civil hospital was firstly inaugurated by Prime Minister Madhav Kumar Nepal on May 30, 2009.
Civil Hospital Contact Number
Phone Numbers: 
01-410700

01-4107001

01-4107074

01-411075
Fax:
Email:
Website – 
Civil Hospital Ticket Timing
Civil Service Hospital of Nepal provides an online OPD booking system. It is the first hospital to provide an online booking facility in Nepal. You can book a ticket from the "Prabhu Pay" wallet available in Playstore.CashBack for cancelation of the ticket and rescheduling the appointment facility is also available. 
How to book ticket from app?
you can book your appointment through these processes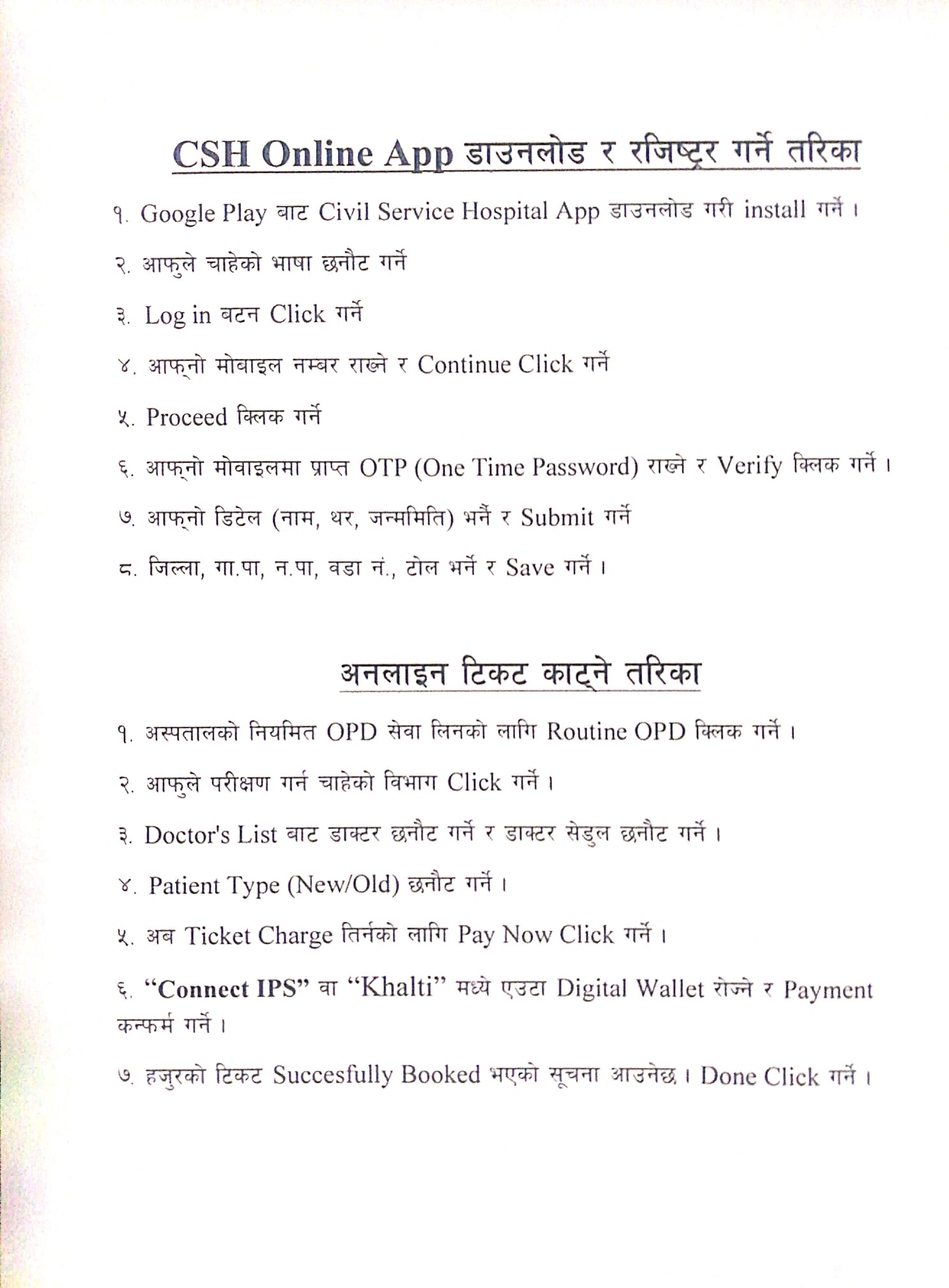 Civil Hospital Doctor List
General Surgery Doctors in Civil Hospital
Dr. Anir Ram Mho Shrestha

Dr. Rabin Pandit

Dr. Bikram Byanjankar

Dr. Vikal Chandra Shakya

 
Cardiology Doctors in Civil Hospital
Dr. Rajan Poudel

Dr. Kamal Sharma Lamsal




Oncology Doctors in Civil Hospital
Dr. Simit Sapkota

Dr. Subash Pandit
Gynecology / Obstetrics Doctors in Civil Hospital
Dr. Jitendra Pariyar

Dr. Neer Shova Chitrakar

Dr. Arun Parshad Joshi

Dr. Isha Shrestha

Dr. Rima Maharjan

Dr. Pabitra Maharjan
Dermatology Doctors in Civil Hospital
Dr. Prajwal Pudasaini

Dr. Sushil Paudel

Dr. Rabindra Prasad Sharma
ENT Doctors in Civil Hospital
Dr. Dipesh Shakya

Dr. Rishi Bhatta

Dr. Nirmala Tamang
Pain Management Doctors in Civil Hospitals
Family Medicine Doctors in Civil Hospital
Dr. Bishrut Sapkota

Dr. Rajiv Shrestha

Dr. Rajeeb Sankhadev

Dr. Ramesh Pant

Dr. Deepesh K.c
Hepatology Doctors in Civil Hospital
Gastrology and Nutrition Doctors in Civil Hospital
Dr. Rajesh Panday

Dr. Ravi Prakash Sharma
Hematology Doctors in Civil Hospital
Dr. Bishal Poudel

Dr.Bisesh Sharma Poudyal

Dr. Prem Raj Shrestha
Respiratory Doctors in Civil Hospital
Orthopedic Doctors in Civil Hospital
Dr. Parimal Acharya

Dr. Sumanbabu Marahttha

Dr. Bandhuram Pangeni

Dr. Arun Sigdel 

Dr. Ankit Niroula
Pediatric doctors in Civil Hospital
Dr. Prakash Jyoti Pokharel

Dr. Aruna Bijukchhe

Dr. Shanti Bhatta

Dr. Sudarshan Koirala
Uro Surgery Doctors in Civil Hospital
Dr. Diwash Gnyawali

Dr. Bipendra Dhoj Kulman Rai
Neurology Doctors in Civil Hospital