Teej is an important festival celebrated by Hindu women. Hartalika Teej is a fasting festival for women in Nepal . This festival is celebrated for 4 days from Bhadra Shukla Dhitiya to Panchami. During the Teej festival, Lord Shiva is worshiped along with traditional dances, devotional folk music & songs, and entertainment. Teej is celebrated freely and joyfully by Nepalese Hindu women, Nepali women of other religions and castes have also started celebrating Teej in Nepal with joy and happiness. This festival is mainly celebrated all over Nepal but also in northern and western India. Lord Shiva's Himalaya daughter Parvati kept the first fast so that there would be no hindrance to Lord Shiva's health and body. That day was the day of Haritalika Teej. It is usually celebrated on the third day of the new moon(bright half of lunar month) of the Bhadrapada, a fifth month of the Hindu calendar.
Hindu women have been celebrating this festival until today. During this festival, relatives (father, mother, brother) invite their daughter to their house and serve sweet and savory food and share feelings and happiness in the same place. Haritalika Teej is specially celebrated for three days. On the day before Teej, the brother or sister of married girls goes to pick her up, while mothers and sisters-in-law prepare different kinds of food dishes (especially latte) in the evening as a snack and "Dar" at night.
Especially in the mountains and rural areas, the custom of eating this "Dar" is given special importance (aside from the scriptural statement that fish and meat should not be eaten on the day before breaking the fast). This festival has given the specialty of Nepali women to lighten the heart by presenting the country's contemporary issues through songs. The government of Nepal declares an official public holiday on the occasion of the Teej festival. This holiday marks the end of rainy season and beginning of monsoon season in Nepal where date may varies on the Gregorian Calendar .
During this festival Nepalese women fast to honor lord shiva and pray for health and well being of their husband and family. where as young unmarried girls pray that they will someday enjoy a happy marriage.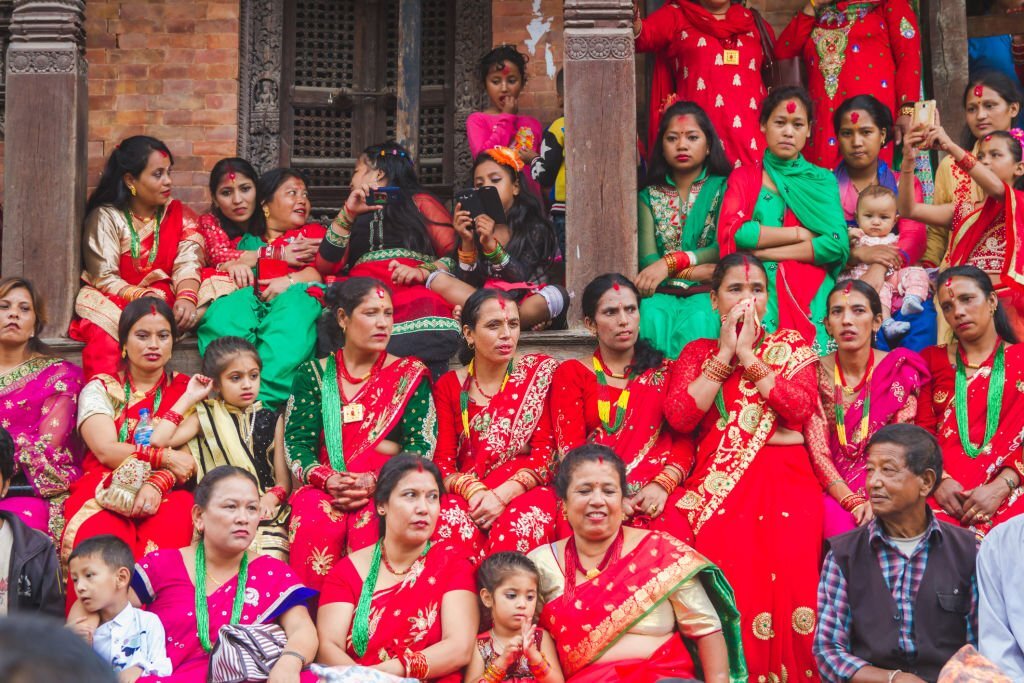 According to Hindu religious texts, the himalayan mountain king had a beautiful daughter named Parvati. After King Himalaya did not like Parvati's promise to marry his daughter Parvati to Lord Shiva, she went to the forest to do penance on Shivaji to get the groom she liked. Even though Parvati had completed a hundred years of penance, when she did not get the results of her penance, one day she installed a Shiva linga and sat down too fast without even drinking water.
In this way, due to Parvati's strict fast, Lord Shiva appeared and blessed her with the blessing that and then Shiva got married to Parvati. That day was the day of Bhadra Shukla Tritiya. On the same date, Hindu women started celebrating this day as a festival, and the tradition of celebrating it as Teej is believed to have been going on since mythological times.
Although the importance of Teej is interpreted in modern society, it is a tradition that has been going on since ancient times. According to Eastern beliefs, women should live with their husbands after marriage and spend the rest of their lives in their homes for creation and society. In this way, the Teej festival has a profound significance as an opportunity to reduce the memory of the family that comes when one leaves the house of birth, mother, father, siblings, friends, and society in a hurry and spends life in a foreign home. 
On Teej, women are served sweet food dishes, new clothes are given. This festival plays a major role in reducing the burden of family responsibilities, and stress, as well as the memory gap for women. On Teej, married women pray for the long life of their husbands, fast, dance, and entertain, while young unmarried girls pray to hope for a good husband.
During the brat, it is customary for women to listen to the brat story of Teej and at the end perform pooja and give Dakshina to Brahmin. Teej fast is observed differently from other fasts.
First Day of Hartalika Teej
The first day of the Hartalika Teej festival is known as "Dar Khane Din" in the Nepali language. On this special day, Nepali women gather wearing an attractive dress (sari) and start dancing and singing Lord Shiva songs. Nepali women also enjoy grand feasts sponsored by men.
The married women are free to do anything. It is a day for them to be beautified in Sorha Singar – dressing up and using make-up to the fullest extent, indulging in good food, and dancing. Often, since many brothers for a feast invite women, they try to dance for a few meals before they are ready to eat more. The food provided should be rich and plentiful.
Second Day of Hartalika Teej
The Second day is the fasting day of the Hartalika Teej festival. Both unmarried and married women fast, live without eating and drink single drops of water. On this day, they happily dress in red, married women wear their lagan ko pote, nathi, other ornaments, and chadke tilahari (jewelry is optional but chadke tilahari, lagan ko pote, and nathi are said to be the most important) and visit Lord Shiva nearby. Dancing everywhere in the temple.
Most devotees visit the Pashupatinath temple in Kathmandu. In the Pashupatinath temple or other Shiva temple, women worship the Shivlinga, the symbol of Shiva, offering flowers, sweets, and coins. The Teej puja (religious ceremony) is performed by offering flowers, fruits, etc. to Shiva and Parvati to bless the husband and family for a long and healthy life.
The most important part of the puja is usually performed in the evening by lighting an oil lamp (108 lamps) which should be kept burning throughout the night. It is customary for married women to be given a Teej lamp by their mother-in-law.
third Day of Hartalika Teej
On the Third day, Women wake up early in the morning and clean the lamps and worship Parvati. The most important part of this puja is banana and holy basil (tulsi Patta) leaves. Women eat food only after this pooja is completed. Ganesh Chaturthi is the third day of Teej. Women eat crab vegetables with "chokho" made with pure ghee.
Fourth Day of Hartalika Teej also known as Rishi Panchami
After finishing the previous day's worship, the women worship various deities and bathe with red clay leaves found at the roots of the holy Datawan bush. This act of purification is the final ritual of Teej, after which all sins of women are believed to be forgiven. In recent years there have been adjustments to the rituals, especially in terms of rigor, but the spirit remains the same.
The exact date of commencement of Teej is not known. However, it is celebrated with great enthusiasm by women in Nepal and some parts of India. Most married women, rich or poor, celebrate this festival with joy.
Eating delicious food called Dar on the eve of Teej and singing and dancing on the main day are the main features of this festival. On this special day, the streets of Kathmandu turn into a sea of ​​red as women dressed in red sarees and dhoti approach the Shiva temples, especially the Pashupatinath temple.
On Teej, devotees do not eat for the whole day. They first worship Lord Shiva and spend the rest of the day dancing and singing on the temple premises. Singing Teej songs like "Teej Ko Rahar Ayo Bari Lai". In fact, women are often seen in holy places on this day. On this day, men are prohibited from entering most Shiva temples.
Even outside the Kathmandu valley, women gather in public places such as streets and markets and enjoy the festival by singing songs. Teej brings a smile to the faces of women in cities and villages, even if they fast all day long, refusing to take even a drop of water.
For many married women in Nepalese villages, it is a rare opportunity to go to their mother's house because of their busyness with village farm work. Parents invite or send someone to their daughters a day or two before the festival.
In a rural society like ours, it is practical to celebrate the festival after the farm work is over. The festival is celebrated after farmers weed their paddy fields. Hindu women across the country celebrate this festival with much gusto, the food they eat as "Dar" varies from place to place. In the mountains of eastern Nepal, they eat porridge, cell roti, and mutton dar, while in western Nepal, they eat rice cooked in ghee, which they call latte. In the city, pulao, sweets, mutton, and fish make up the main menu of Dhar.