Tihar is one of the most important festivals among us. It is second biggest festival in Nepal . it is also called the festival of lights. Tihar festival falls every year from Kartik Krishna Trayodashi to Kartik Sukala Dittiya. On these five days, five festivals are: Kaag-Tihar, Kukur-Tihar, Gai-Tihar, Goru-Tihar, and Bhai-Tihar. Tihar festival is also known as "Yampanchak" and "Deewali". Hindus across the kingdom of Nepal celebrate this festival with great pomp. Hindu Nepalis living outside Nepal also celebrate this festival with equal importance.
Tihar is the biggest festival celebrated in Nepal after Dashain. Tihar is celebrated not only in Nepal but also in some states of India. It is also known as Diwali or Deepawali and the "Festival of Lights". Tihar festival is known as Diwali in India. Tihar festival is considered with great importance as it shows the contribution of not only humans and deities but also sacred animals like crows, cows, and dogs who maintain a close relationship with humans.
Tihar is a very fun and important festival for Nepali people. Nepali people celebrate it with more fun than Dasain. At this time nature also looks very beautiful. The blue and clear sky, the paddy hanging in the fields, the hundreds of leaves, and the velvet flow blooming in the courtyards all seem to enhance the beauty of Tihar. This festival also conveys the message that people should have a sense of unity, harmony, and equality with nature and animals. It becomes an important aspect of the festival to spread the spirit of brotherhood. The worship and every activity performed during this festival inspire us to follow the path. The main goddess worshiped at this festival is Lakshmi, who is also known as the goddess of wealth and fortun
Tihar festival in nepal is celebrated in different ways among different communities. The Tihar festival is known as Swati among the Newar community and Deepawali among Madhesis. Nepali people decorate the home by using colorful lights and making patterns using different colors, dry flour, and flower petals called Rangoli for welcoming the goddess Lakshmi. People enjoy the Tihar festival by lighting firecrackers, although the Nepal government has banned firecrackers.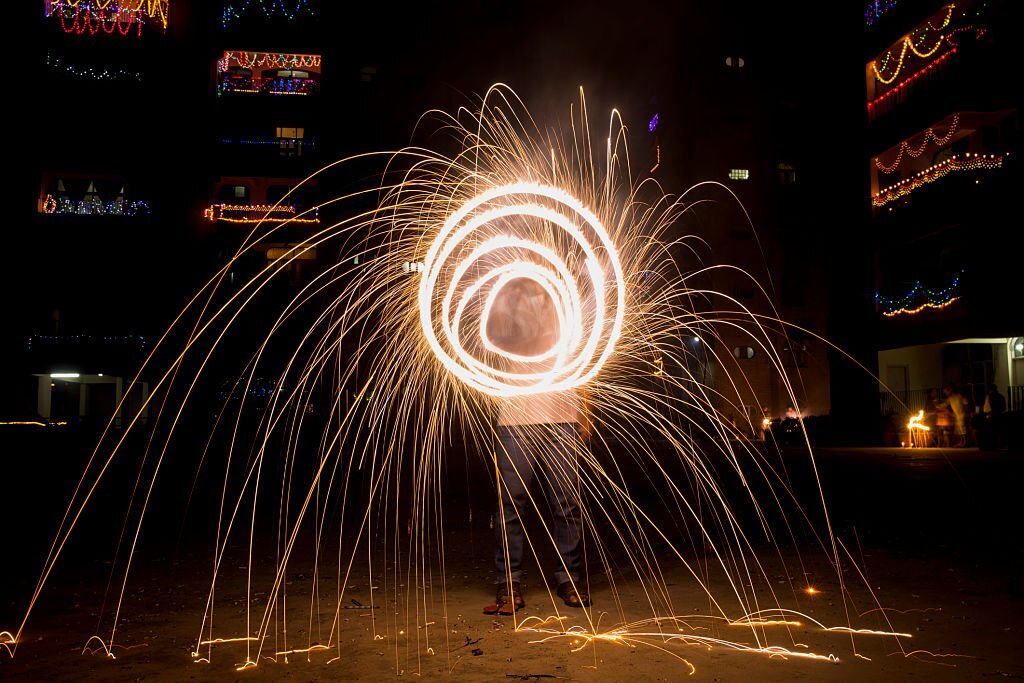 Kaag Tihar (First Day of Tihar)
The festival begins with kaag(crow) tihar where crow is worshipped. They worship them so as not to inform any negative or bad news that will bring inauspicious omens. People also worship the crow to get their fortune.
In Hindu mythology, crows are known as "messengers of death". And the first day of Tihar is their rest day. So to ensure their proper rest, people feed crows.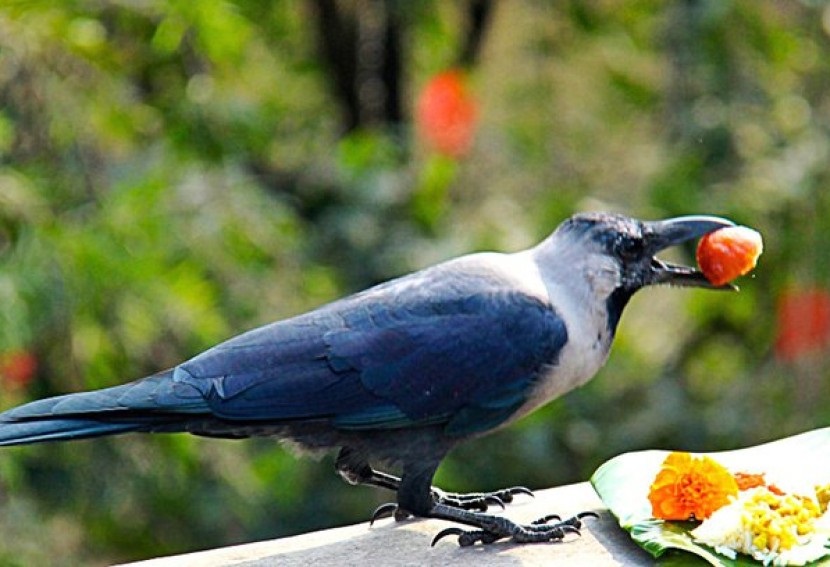 Kukur Tihar ( Second day of Tihar)
The second day of the Tihar festival in Nepal is called Kukur Puja (Kukur Tihar). This is worshiping man's best friend, the dog. On this day, the dog is given sweet food and a garland is hung around its neck with a tick on its forehead. On this day, Kukur Tihar we can see many dogs walking around with Tikas and marigold garlands around their necks. It is believed that dogs can see impending danger and death and are the "gatekeepers". It would be best if we treated every stray dog ​​we see on the street like this every day.
This dog festival falls on the Chaturdashi Tithi of Krishna Paksha in the month of Kartik. The practice of worshiping the dog as a pet and as a messenger of Yamaraj, the god of time, is a practice that has been going on in our society since ancient times. Even worshiping a dog one day in a year is kind of fun.
The bond between dogs and human beings was established in Mahabharata. The Hindu God of death god Yama used to have dogs as guards. The dogs are also said to be guards of Narka, the Hindu concept of Hell.
Gai tihar and Laxmi puja( Third day of tihar)
The third day of the Tihar festival in Nepal is called Gai-Tihar. This festival is also known as Laxmi Puja. This festival is celebrated on the first day of Krishna Paksha in the month of Kartik. On this day People worship Cows and their wealth. On that day, worship is done in the morning and at night, Diwali is celebrated at home and worship of goddess Lakshmi, the goddess of wealth. The cow is our national animal and Hindus also consider her Lakshmi. Therefore, on this day, cows are worshiped by feeding them sweet and sweet food.
Similarly, on this day and night, there is a tradition in our Hindu society of worshiping the goddess of wealth, Lakshmi, at home on Diwali. All Hindus believe that if the goddess of wealth, Lakshmi, gives her grace. All Hindus also believe that if Lakshmi is pleased on this day, Lakshmi will always reside in the house. Therefore, on this day, Lakshmi is worshiped by collecting all the money and jewelry in one place and keeping an urn.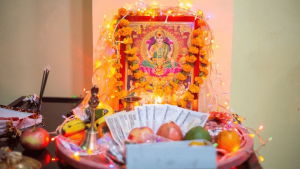 this day is no moon day that's why house owner(s) clean houses and roads and light the whole community using bright lights, and oil lamps . The rituals of Dheusi bhailo started from this day. If you don't know Dheusi and bhailo are groups of people who sang tihar songs and gives blessing to house owner where Dheusi and bhailo groups will receive some money and goods from house owners.
This day is considered an important day of Tihar as the lights are lit everywhere from the evening on this day. On this day, the festival of Diwali is also called 'Deewali' because the glitter of Diwali is everywhere. On this day, it is common for Nepalese people to cook and eat sel(kind of circle roti made of rice flour) and other sweet dishes at home. Every day in the evening, the girls play Bhailo. And they rejoice by taking Sel-roti, rupees, etc. given by Shraddha for Bhailo Khel. On the day of Lakshmi Puja, the birth anniversary of Lakshmi Prasad Devkota, the pinnacle of Nepali language and literature, is also celebrated on this day or the days around it.
Therefore, while this Lakshmi Puja is important in our society from a religious and cultural point of view, this day has also become a day to celebrate our literary festival. This day is considered important for Nepalese people who worship Lakshmi, the goddess of wealth, and Lakshmi Prasad, the blessed son of Saraswati.
Govardhan puja and Mha puja ( fourth day)
The fourth day of Tihar is celebrated as Goru-Tihar(Goru Puja). This festival falls on the Pratipada Tithi of the fee side of the month of Kartik. On this day, Govardhan Puja and Bull Puja are performed. This day is also known as Tihar. On that day, cow dung is made like a mountain and it is worshiped as Govardhan Parbat. Similarly, it is customary to worship bulls on this day. Mha puja also celebrated on this day by the Newar community. In Newari language, Mha puja means "worship of the self".
On this fourth day, apart from the bull, there is a tradition of worshiping tools like plows, yokes, etc. which are not necessary for farming. Haruwa is also given new clothes, money, money, rice, etc. on this day. Similarly, this is also the day when boys play Deausi. Today, boys also play Deusi with the aim of raising funds for various social activities. This day is celebrated with grandeur by playing Deusi with great enthusiasm everywhere in villages and towns. The Newar community of Kathmandu Valley has a tradition of doing Maha Puja on this day for their happy life.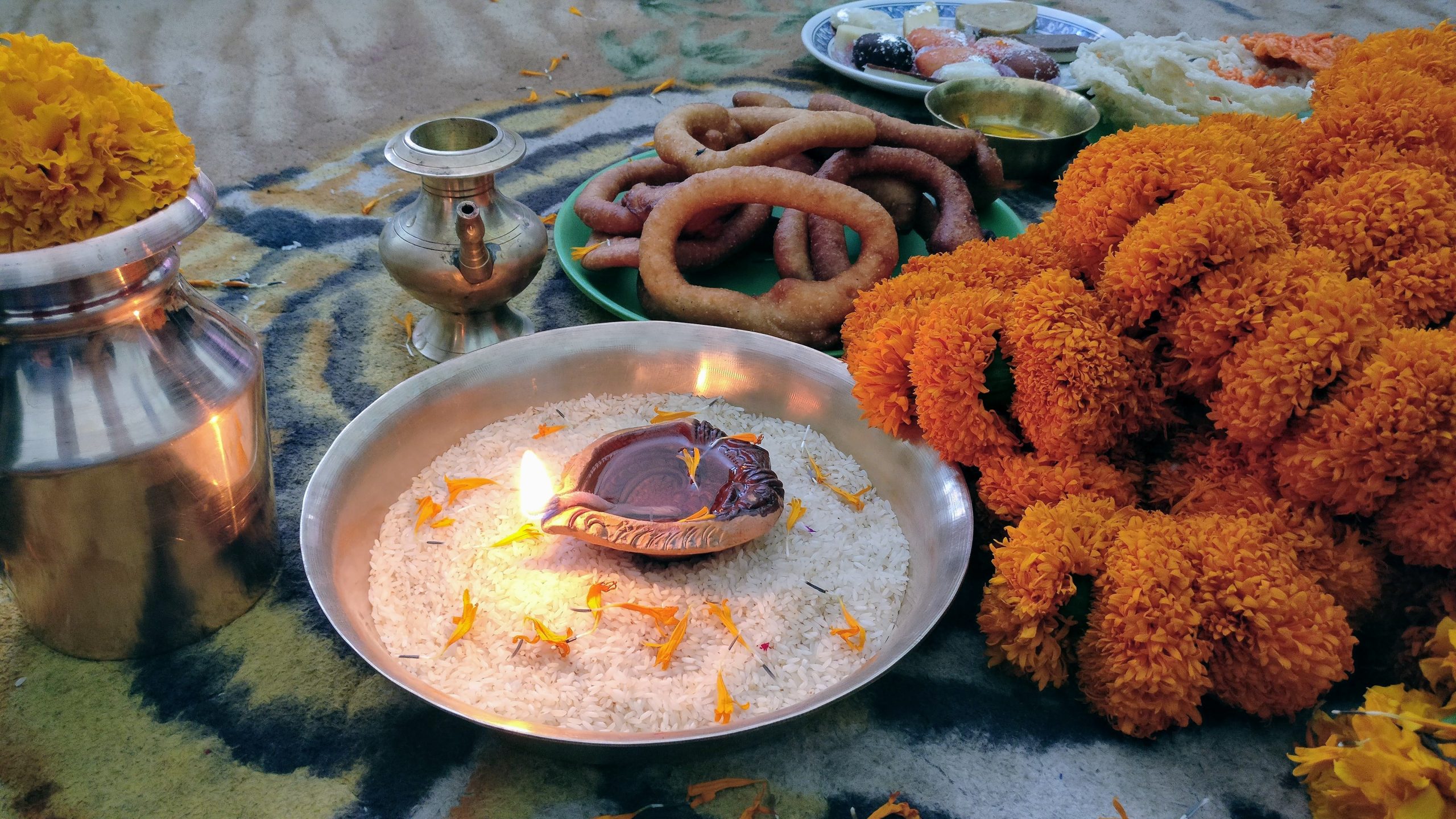 Bhai tika (fifth and last day)
The fifth day of Tihar is famous as Bhai-Tihar (also called Bhai Tika). This festival is a fun day when brothers and sisters worship each other by wearing tikas and eating food, sweets, etc. and brothers and sisters give gifts, etc. This day is also known as 'Vhaitika'. On this fifth day, the story of Yamraj, the god of time, going for Tika with his sister Yamuna is mentioned in the Hindu Puranas.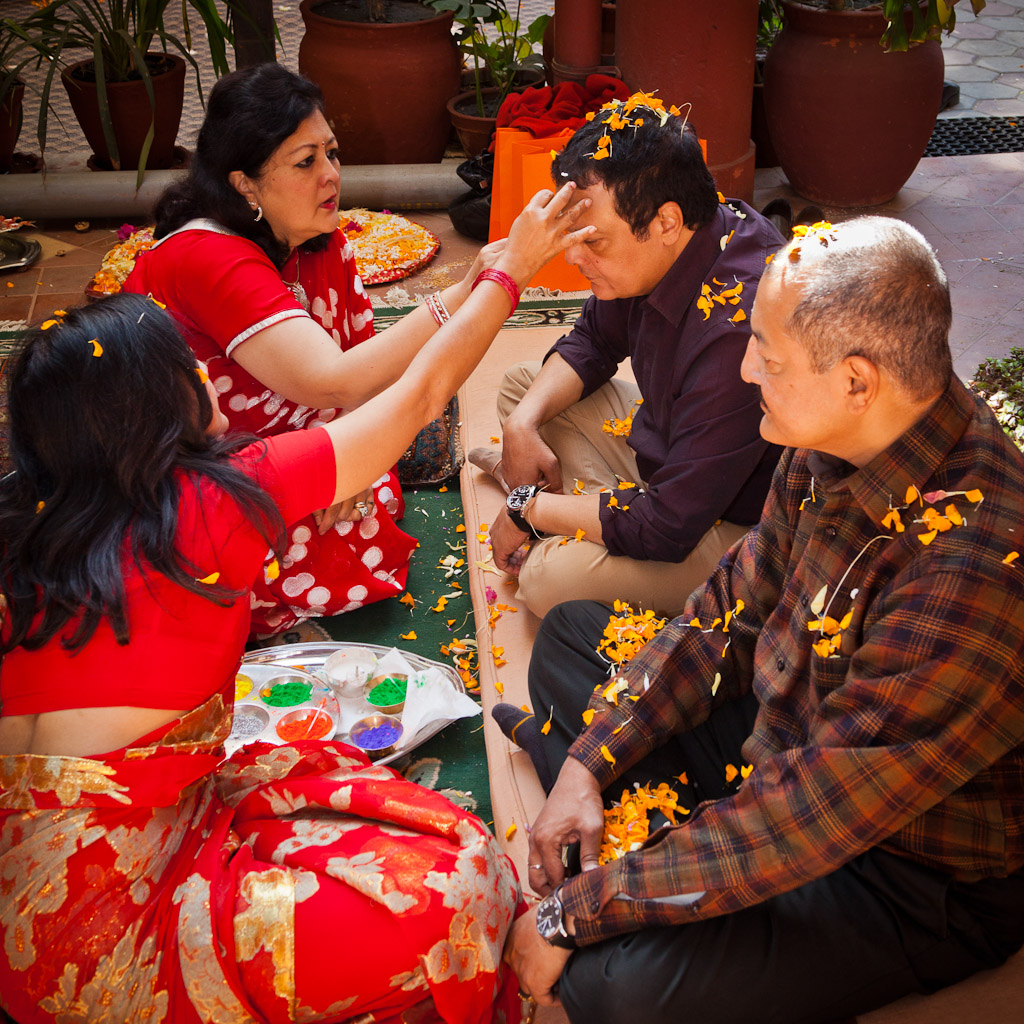 On Bhai Tika, sisters sprinkle rice flour on their brother's forehead, and putting tika i.e. seven-color tika on it, apply hundred-leafed and velvety flowers, put oil on their hair, and give them sweet food to eat and pray for their brother's long life and good health. Brothers are also happy to give gifts to sisters on Bhai tika. This gives a very deep bond between brothers and sisters. So Bhai tika is a very important day of the Tihar festival. Tihar is a very joyful festival for Hindus.
On this day The rani pokhari temple located at kathmandu valley in Nepal opened to the public.where people having no brother or sister goes there to worship god.
Sel Roti Traditional Tihar Special Dish
Nepal Celebrates more than 50 festivals in a year. The celebration of the festival is incomplete without special dishes. During the Tihar festival, many dishes are prepared but Sel Roti is a special dish prepared in almost every house in Nepal during the Dashain and Tihar festivals mainly. Generally, Sel Roti is round-shaped sweet rice bread popular in Nepal as well as some parts of India. The semi-liquid dough is fried in oil till it turns red.
Sel Roti is made of rice flour. The rice flour is converted into the semi-liquid dough by adding water, oil, sugar, ghee, and other flavors as per needs. All the ingredients are mixed well with hands and deep fried in boiling oil or ghee (Sel Roti fried in Ghee tastes better than in oil).
The Semi Liquid dough is then poured in oil or ghee in a circle shape with hands. A special bamboo stick called "Jhir " in the Nepali language is a kind of fork used for turning bread while cooking. During the festival, Sel Roti is cooked in bulks and gifted to family members living away from home. The Sel roti is also used as a Prashad in different puja.
If you want to feel and celebrate vibes of nepali culture and people, taste delicious food, want to explore happy face of nepali culture then you can visit Nepal for Tihar celebration. this will be your perfect trip in Nepal to explore Nepali culture.