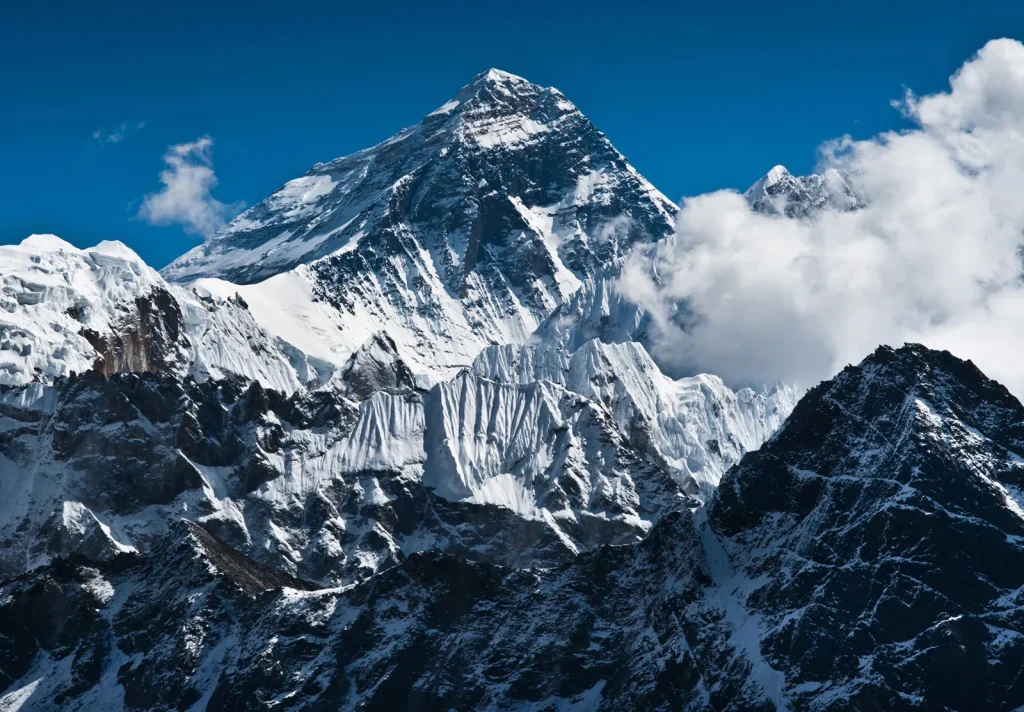 The Mahalangur Himal sub-range of the Himalayas is home to the mountain with the highest elevation on Earth(Mount Everest). Crossing its top point is the China-Nepal border.  The Chinese and Nepali governments most recently established its elevation in 2020, which is 8,848.86 m (29,031.7 ft).
Numerous climbers, including expert mountaineers, are drawn to Mount Everest. There are two main ascent routes, one of which approaches the peak from Tibet's north and the other from Nepal's southeast. Everest includes risks including altitude sickness, weather, and wind, as well as perils from avalanches and the Khumbu Icefall, despite not providing any significant technical climbing obstacles on the conventional route. Over 300 people have passed away on Everest as of 2019, many of whose remains are still on the peak. The locals have long admired Mount Everest and other lofty peaks in the area. The Tibetian name of Mount Everest is  Chomolungma. The meaning of Chomolungma is "Goddess Mother of the World" or "Goddess of the Valley." Sagarmatha literally translates as "Peak of Heaven" in Sanskrit. 
In the year 1865 AD, Sir George Everest gave Mount Everest his name. It is situated in Nepal's Solukhumbu district. Sagarmatha and Chomolungma are the names of Mount Everest in Nepalese and Tibetan. Other regional names for Mount Everest are also given, including Third Pole, Peak XV, and Deudhunga for the local sherpas. It is estimated that Everest is 60 million years old. As the Indian subcontinent plate collides with the Eurasian continental plate, Everest is the result of tectonic plate movement. Before the 19th century, no one understood that Mount Everest was the highest point on the planet. On May 29, 1953 AD, Sir Edmund Percival Hillary KG, and Tenzing Norgay Sherpa became the first people to successfully climb Mount Everest. Eight of the top ten mountains are located in Nepal. The most well-known of them all is Mount Everest. On Mount Everest, the weather is really severe. The lowest temperature recorded during January, the coldest month of the year, is -76 °F (-60 °C). The current temperature is 19°F (-7°C). Never does the temperature get above zero. The weather on Mount Everest was extremely difficult to forecast. Climbers are also in danger from the wind and negligence in addition to the dangerously low temperatures. In addition to snow and ice during storms, high winds frequently blow sand and small pieces of stone. 
Mount Everest is situated in Nepal. Also known as Sagarmatha in Nepali and Chomolungma in Tibetan, and crosses the border between Nepal and Tibet. The mountain is located very close to the equator, at a latitude of around 28 degrees, even though climbing to the top of the globe is difficult and potentially lethal due to the peak's tremendous altitude, avalanches, icefalls, and other dangers. It is considered the tallest point on earth.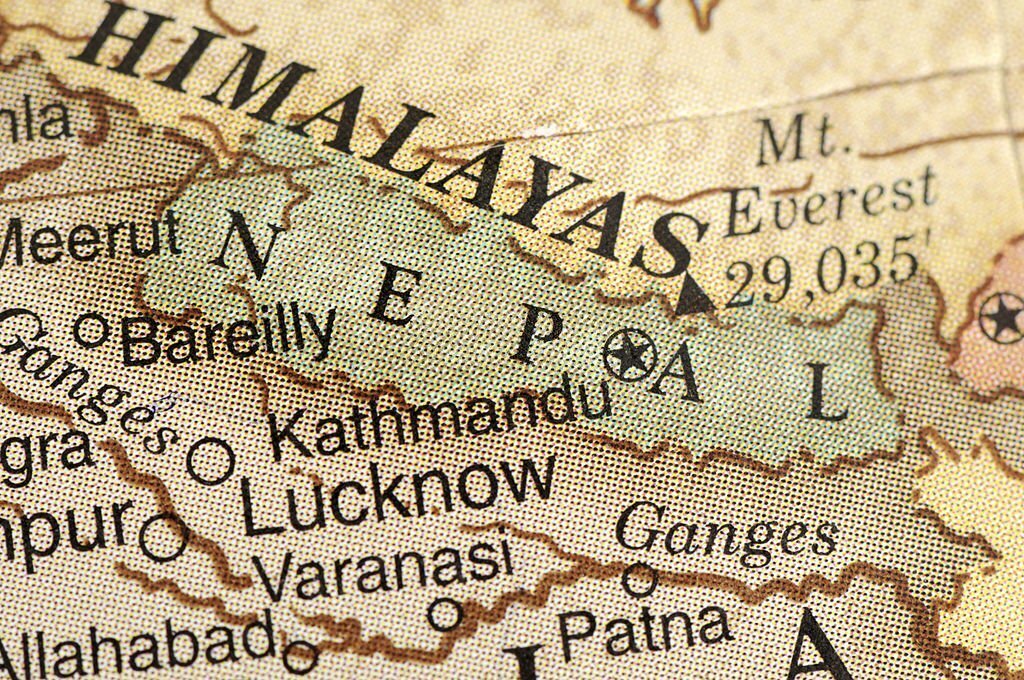 How Long Does It Take To Climb Mount Everest?
A typical trip to the peak of Mount Everest lasts six to ten weeks or roughly two months. In order to do this, you must gather equipment, set up a base camp, go to higher peaks, and then tackle the summit. Because Everest is situated on the border of Tibet and Nepal, there are two general ways with variations in the precise route. Most climbers make their way to the top from the Tibet side. Arriving in Kathmandu, Nepal's capital is the first step. You will next be transported to the town of Lukla in a much smaller plane. To get to Mount Everest Base Camp, you can either fly there or climb there.
Mount Everest Base Camp Nepal
There are two base camps on Everest. On opposite sides of the Himalayas, South Base Camp is in Nepal at a height of 5,364 meters, and North Base Camp is in Tibet, China, at a height of 5,150 meters (16,900 ft). Base camps are simple camping areas at the foot of Mount Everest that mountaineers utilize for both ascent and descent. Hikers also stop by these locations. When ascending via the southeast ridge, South Base Camp is used, whereas North Base Camp is used when ascending via the northeast ridge. Porters transport supplies to the South Base Camp with the aid of animals, mostly yaks. A paved road that exits off of China National Highway 318 leads to the North Base Camp. In order to acclimatize and lower their risk of altitude sickness, climbers often take a few days off in base camp.
South Everest Base Camp In Nepal
To save time and effort before starting the trip to the south base camp, hikers typically take a flight from Kathmandu to Lukla. Since there are no roads between Kathmandu and Lukla, the only way to move big, heavy items is by airplane. One of the most well-known trekking routes in the Himalayas is the south side of the Everest Base Camp trip, which departs from Lukla Airport and rises up to a height of 5,364 m (17,598 ft). Climbers ascend from Lukla along the Dudh Kosi river valley to Namche Bazaar, the Sherpa capital, at 3,440 meters (11,290 feet) which takes about 2 days. Once they reach Dingboche, which is located at 4,260 meters (13,980 feet), they rest for another day to allow their bodies to adjust to the altitude. An avalanche on Pumori that raced across the South Base Camp on April 25, 2015, was caused by an earthquake that affected Nepal and registered a moment magnitude of 7.8. There were reports of at least 19 deaths as a result. The Everest Base Camp was damaged by these earthquakes and required repairs just over two weeks later. The Khumbu glacier, on which the campground is located, is gradually melting and thinning down, making it dangerous for the trekkers. On June 17, 2022, it was reported that the camp would be moved 200–400 meters (m) below.
Northern Everest Base Camp In China
The Chinese government also issues permits for visits to the North Base Camp. Since February 2019, travelers are unable to access the North Base Camp. As part of a package tour that included hiring a vehicle, driver, and guide in the past, such permits could be booked through travel agencies in Lhasa. The Friendship Highway near Shelkar, at the southern foot of the 5,220 meters (17,130 feet) high Gyatso La pass, branches to the south, providing a 100 km (62 mile) route that leads to the North Base Camp. Rongbuk Monastery is accessible via this road and offers breathtaking views of Mount Everest's north face. All visitors had to board one of the government-managed mini buses or horse-drawn carriages that left from the Rombuk guest house in order to avoid congestion on the final gravel stretch to the climbers' camp, which was designated by a hill at 5,200 meters above sea level. It was also possible to hike up from the tourist camp, but only after a sufficient amount of acclimatization. The "tourist Base Camp" is situated halfway between Rongbuk Monastery and the authentic climbers' Base Camp, which is situated at the base of the Rongbuk glacier.
How Cold Is Mount Everest?
Mount Everest experiences extremely harsh weather and environment. At the top, it's freezing, and in January, it can be as cold as -60° C (-76° F). Despite the cold, hurricane-force gusts and wind chill are the primary problems climbers confront. During the winter, hurricanes with winds of more than 285 km/h form (177 mph). The majority of climbers tackle the peak during this brief window, when these winds ease, which occurs in the month of May.
Mount Everest experiences extremely harsh weather and environment. At the top, it's freezing, and in January, it can be as cold as -60° C (-76° F). Despite the cold, hurricane-force gusts and wind chill are the primary problems climbers confront. During the winter, hurricanes with winds of more than 285 km/h form (177 mph). The majority of climbers tackle the peak during this brief window, when these winds ease, which occurs in the month of May.
How Much Does It Cost To Climb Mount Everest?
In 2017, a price was paid on average of about $45,000. A typically sponsored ascent can cost anything from $28,000 to $85,000. Those who are willing to take significant risks can skimp for far under $20,000, while a fully customized climb would cost over $115,000. Transport from Kathmandu or Lhasa, food, base camp tents, Sherpa support, and extra oxygen are typically included in this. A personal Sherpa, Western guides, tips, food, and tents on the upper mountain are just a few of the many limitations that come with such a broad range. In 2017, the price of climbing Everest varied from $28,000 to $120,000, but prices have since increased. In 2022, the cost of climbing Everest can range from $30,000 to $160,000, with an average of roughly $45,000.Why is there such a wide price range, you might be questioning? There are several ways to tailor your ascent of Mount Everest, and the fee you pay will primarily depend on how much you're prepared to spend on associated expenses like assistance, transportation, food, and equipment.