About Pokhara- City of Lakes in Nepal
The magnificent country of Nepal never ceases to amaze with its lush jungles, snowy mountaintops, wildlife, various cultures, and breathtaking landscape. The lakes, which gleam like mirrors and reflect the lovely horizon of snow-capped mountains and wonderful skies, produce beautiful visual scapes. Also, the gorgeous region is reasonably priced. This gives you the much-needed break from the busy city life while still enabling you to indulge in all the comforts you deserve. One of the top holiday spots in Nepal is the city of Pokhara.
The Gandaki Province's administrative hub is Pokhara, a large city in Nepal. In 2021, there will be 101,669 dwellings housing 518,452 people. After Kathmandu, Pokhara is regarded as the second-most populous city in Nepal. The main tourist destination in Nepal is Pokhara. The beauty of nature is abundant. Pokhara has blessed with stunning mountains and ponds thanks to mother nature. Pokhara is the top three mountains in the world over 8000 meters. The mountains in Pokhara are Manaslu, Annapurna I, and Dhaulagiri. The city is situated on the edge of Phewa Lake and is situated at an elevation of around 822 meters. Pokhara is made up of the Old City and the lakeside Pokhara area. Pokhara's economic hub is the Old City, while the Lakeside neighborhood is home to a wide range of tourist attractions and breathtaking views. Although we suggest Lakeside, you are free to stay anywhere you like. The Lakeside's north and south sides are farther apart. The phrase "Lakeside" derives from the gorgeous freshwater lake known as the Phewa Lake or Phewa Tal, which uncannily resembles a mirror. Its magnificent reflections of the pristine skies and Mt. Machhapuchhre of the Annapurna range contributed to the lake's fame.
History of Pokhara - Nepal
Experts have found evidence of at least three big medieval earthquakes that occurred about 1000, 1255, and 1344 AD. In the Annapurna range, there are indications of one or more megafloods up to 9 cubic kilometers of conglomerates, enormous muck, and silt. Through radiocarbon dating, researchers have discovered information on earthquakes.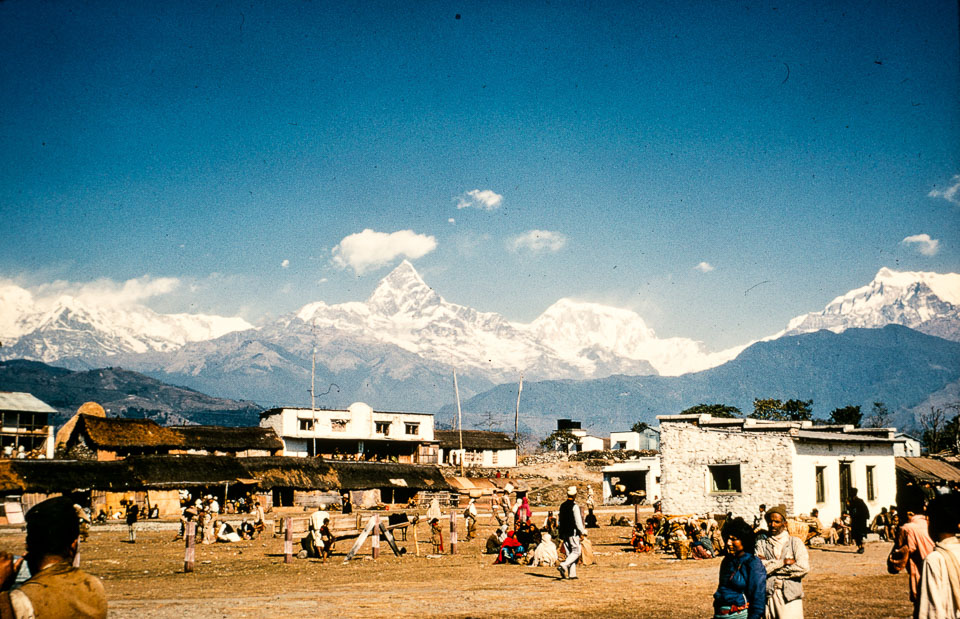 Pokhara is situated alongside a significant ancient trade route that links China and India. In the 17th century, it was a part of the Kingdom of Kaski, a Chaubisi Rajya ruled by the Shah family. The hills surrounding Pokhara still contain several medieval remains. In 1786, Pokhara became a part of Prithvi Narayan Shah's kingdom.
When Kulamandan Shah Khad, the first king of Kaski (also known as Bichitra Khan and Jagati Khan), made Batulechaur, on the northern side of the valley, his winter palace in the middle of the fourteenth century, it is believed that the first settlers of the valley arrived. Among those who arrived here were Parajuli Brahmins, who were given some land in the Birta region and asked to take care of the Bindhyabasini temple. Prior to the last King of Kaski establishing the current market (also known as the old market) in the 1770s, Kathmandu (Bhaktapur) imported sixteen Newar houses, and the first market center established in the Pokhara valley was Dhobi Gauda.
Pokhara city has a humid subtropical climate. Average summer temperatures range from 25 to 35 °C, while winter ranges from 2 to 15 °C. In Pokhara valley snowfall is not observed. In winter surroundings hills may experience occasional snowfall. It rains heavily in Pokhara and the surrounding places. Lumle which is 25 miles away from Pokhara valley receives the highest amount of rainfall in Nepal. In winter and spring generally, the skies of Pokhara are clear and sunny. Pokhara's high temperature was 38.5 °C (101.3 °F) on May 4, 2013, while its low was 0.5 °C (32.9 °F) on January 13, 2012.
Places to visit in Pokhara
There are numerous best places to visit in Pokhara valley. Some of the famous places are listed below:
The World Peace Pagoda in Pokhara, Nepal is a magnificent white building placed on a hill with views of the Annapurna Mountain range, which is reflected in Lake Phewa Tal. As a result, it is one of the more peaceful peace pagodas on the entire globe.  It was built by Buddhist monks from the Japanese Nipponzan Myohoji organization soon after World War 2. They are made to encourage unity between people of various races and faiths. In Nepali, the Peace Pagoda is also known as the "Santi stupa."
This is Nepal's second Shanti stupa after Lumbini. Since its establishment in 1947, this stupa, which is now a well-liked tourist attraction in Pokhara, has had a lot of struggles. After 7 years of restorations, the World Peace Pagoda, which provides fantastic trekking options from the southeast shore of Phewa Lake, was eventually made public in 1999. In addition to the stunning view of the mountains and lake, one may marvel at the dawn and sunset from this stupa.
International Mountain Museum (Pokhara Museum)
In Pokhara, Nepal, there is an international mountain museum. The unique International Mountain Museum focuses on the Himalayas and its explorers. The museum showcases the peculiar plants and creatures of the Himalayas, as well as famous hikers, old mountaineering tools, and other fascinating facts.   Over 100,000 people from both local and foreign countries visit the International Mountain Museum (IMM) each year. IMM maintains track of, catalogs, and exhibits historical and contemporary developments in mountain and mountaineering around the world. Basically, there is three exhibition room. Rooms are used to display the different highest peaks, biographies of famous mountains, people's lifestyles of mountains, flora, and wildlife of mountains in order to represent the traditional culture and values of Nepalese People.
Devi's Falls Pokhara
Davis falls or the waterfall of Pokhara is located in Kaski district, Nepal. The water passes through a tunnel which is approximately 150m (500feet). A Swiss Couple went swimming on On 31 July 1961 but the woman died at the waterfall and her body was recognized after 3 days. After that in the memory of their daughter, her father named the waterfall David's Waterfall, and later it was changed to Devi's waterfall. Devi's waterfall is the center of attraction for both local and international tourists. The water of Devi's fall passes through Gupteshwor Mahadev cave. Phewa lake is the main source of the waterfall. Different local tourists visit Devi's fall as it is also a religious place for Hindu people. Nepali Hindu tourists try luck on the luck pond by throwing coins at the statue of the god constructed on Devi's fall.
Pokhara never fails to amaze tourists. Another beautiful place in Pokhara City is Pumdikot View Point. Often tourist visits Pumdikot because of the huge Shiva Statue and view tower. It is in Pumdi Bhumdi VDC at a height of 1500m. Although construction work of parks is not completed yet it has become the best-attracted place for tourists. The breathtaking view of Phewa lake and 3 different mountains- Dhaulagiri, Annapurna, and Machhapuchhre mountains are the main reason for Pumdikot making the best hill station in Pokhara Valley.
Pumdikot Shiva Statue of 50ft Pokhara
Pumdikot Shiva statue is also another wonderful place that attracts tourists. The gigantic statue's height is 50f. It is a religious place in Them Park. The statue is famous for its height and Damaru of Shiva. You can have an attractive view of Them park garden with 58 pairs of stairs to reach the statue. The "Damaru of Shiva" is considered the biggest Damaru in Asia. This is also another reason for tourist attraction. It is recognized as Pumdikot Shiva Temple in Nepali. Pumdikot is famous in religious as well as adventurous tourism sectors. Often Hindu devotee visits the temple and worships Lord Shiva Temple. You can visit and enjoy the view as well as Shiva Temple on your vacation. The Pumdikot is in a way of being more attractive. Martyrs' Memorial Park which on under construction will definitely add more beauty to Pumdikot.
Mahendra Cave Pokhara
Mahendra cave also called Mahendra Gufa in Nepali is in Pokhara, Kaski. Mahendra Gufa is a huge Limestone cave near Kali Khola. A cave system in Nepal with stalactites and stalagmites is extremely uncommon. Mahendra cave in Pokhara attracts thousands of tourists every year.
Late King of Nepal Mahendra Bir Bikram Shah Dev is the root of the cave's name. Young Pokhara shepherds from the 1950s made the discovery of this cave. It has continued to be one of Pokhara's most popular destinations ever since. A small group of UK speleologists. The cave's first comprehensive survey was in 1976, recording the creatures that resided there.
The passageways of the cave are absolutely black, and water is constantly dripping from the ceiling. The limestone that created the cave is falling to the surface and creating electrical sparks all the time. About half of the accessible cave has artificial illumination because of the darkness. The cave has around 100 meters of reasonably navigable channels and another 100 meters of low, unstable corridors that can only be reached by a collapsed passage that is maybe half a meter high. The report of the British cave expedition to the area in 1976 includes a study of the entire cave as well as lists of the bats and invertebrates that live there.
The area surrounding Mahendra Cave is lush with vegetation. In this region, horses and mules may regularly be seen grazing. This location is at the foot of a hill covered with vegetation. From here, one can see several green hills in the surrounding area. Within 10 minutes on foot, one may also reach Bat Cave, another magnificent cave, by following the trail line that runs parallel to the hills.
Location Of Mahendra Cave In Pokhara
Mahendra Cave is situated in the western Nepalese city of Pokhara. It is located at a height of around 1100 meters. Conglomerates are layered on top of young (Pleistocene) limestone where it has developed. Visitors may go to the cave from the Pokhara Airport in thirty minutes by taxi, an hour by public transportation, or two hours on foot. 
Lakes Side Pokhara
The reason Pokhara is famous is due to its beautiful lake. The beautiful view of the lake attracts millions of tourists every year. The lakes are beautiful with fresh and clear water. The reflection of the mountains Annapurna, Mount Machhapuchhre, and other different mountains makes the view of the lake astonishing. Seven lakes are in Pokhara and Pokhara city is also known as 7 lake city.
The seven lakes of Pokhara are:
Phewa Lake

Begnas Lake

Rupa Lake

Maidi Lake

Khaste Lake

Nyureni Lake

Dipang Lake
In conclusion, Visitors can enjoy themselves in Pokhara and see all these lovely lakes. Pokhara city is named a seven-lake city because of these lakes.
How to reach Lakeside Pokhara?
Pokhara is closer to Kathmandu only 200 kilometers you can get there by both air and roads. Of course, traveling by road will be less expensive; it will cost you about NPR 700. Pokhara has a domestic airport, so flying is another option for getting there.
Foreign visitors must arrive in Kathmandu and then take separate flights to Pokhara that lasts about 30 minutes and costs about NPR 13,000. Though the 6- to 8-hour bus ride is worth it for the scenery.  If you pay an extra price, you can select to have a lunch buffet while you're riding.
Pokhara to annapurna base camp trek

Sarangkot Sunrise

Boating in Phewa Lake

Seti River Rafting

Pray at Barahi Temple

Paragliding

Experience the Ultralight Flight

Zip Flyer

Canyoning

Mountain Biking