Kathmandu airport, also known as Tribhuvan International Airport (TIA), is located in Kathmandu valley, Nepal. It is the International Airport of Nepal. Kathmandu Airport provides both domestic and international services. Kathmandu Airport connects about 40 destinations in 17 other countries. Kathmandu Tribhuvan international airport has two terminals, one for domestic and another for international. The Tribhuvan international airport is named after Tribhuvan King of Nepal. Along with numerous domestic carriers, the airport serves as a hub for two international airlines, Nepal Airlines and Himalaya Airlines, the country's flag carrier.
Tribhuvan International Airport is also the main gateway to Mount Everest, the beautiful Pokhara city, Ilam District and many others. A regular flight to Lukla Airport(a dangerous Airport in Nepal) can be excess from Kathmandu Airport. 
History Of Kathmandu Airport
At first, Kathmandu or Tribhuvan Airport was known as "Gaucharan airport." In the Nepali Language, "Gaucharan" refers to a place for cow graze. The landing of a Beechcraft Bonanza carrying the Indian representative in 1949 marked the official start of aviation in Nepal. A Himalayan Aviation Dakota made the first charter trip between Gauchaur and Calcutta on February 20, 1950.
A Dakota DC-3 registered in India launched the first-ever scheduled service, connecting Patna, Kolkata, and Delhi from Kathmandu, on February 20, 1950. 
To remove the Rana monarchy in 1950, King Tribhuvan took shelter in India. The four-year-old grandson of Tribhuvan, Gyanendra Bir Bikram Shah, was appointed as the new monarch. Two Indian aircraft arrived at Gauchaur Airport on November 10th, 1950, and took the young monarch and his grandfather to Delhi. Following the Delhi Accord, the Rana regime ended, and on February 18, 1951, King Tribhuvan landed at Gauchaur Airport. The first regularly scheduled domestic flights to Bhairahawa, Biratnagar, Pokhara, and Simara began in 1952. 
King Mahendra inaugurated the airport in Memory of his Late Father. It was then named Tribhuvan Airport. Tribhuvan airport was again renamed Tribhuvan International Airport in 1964.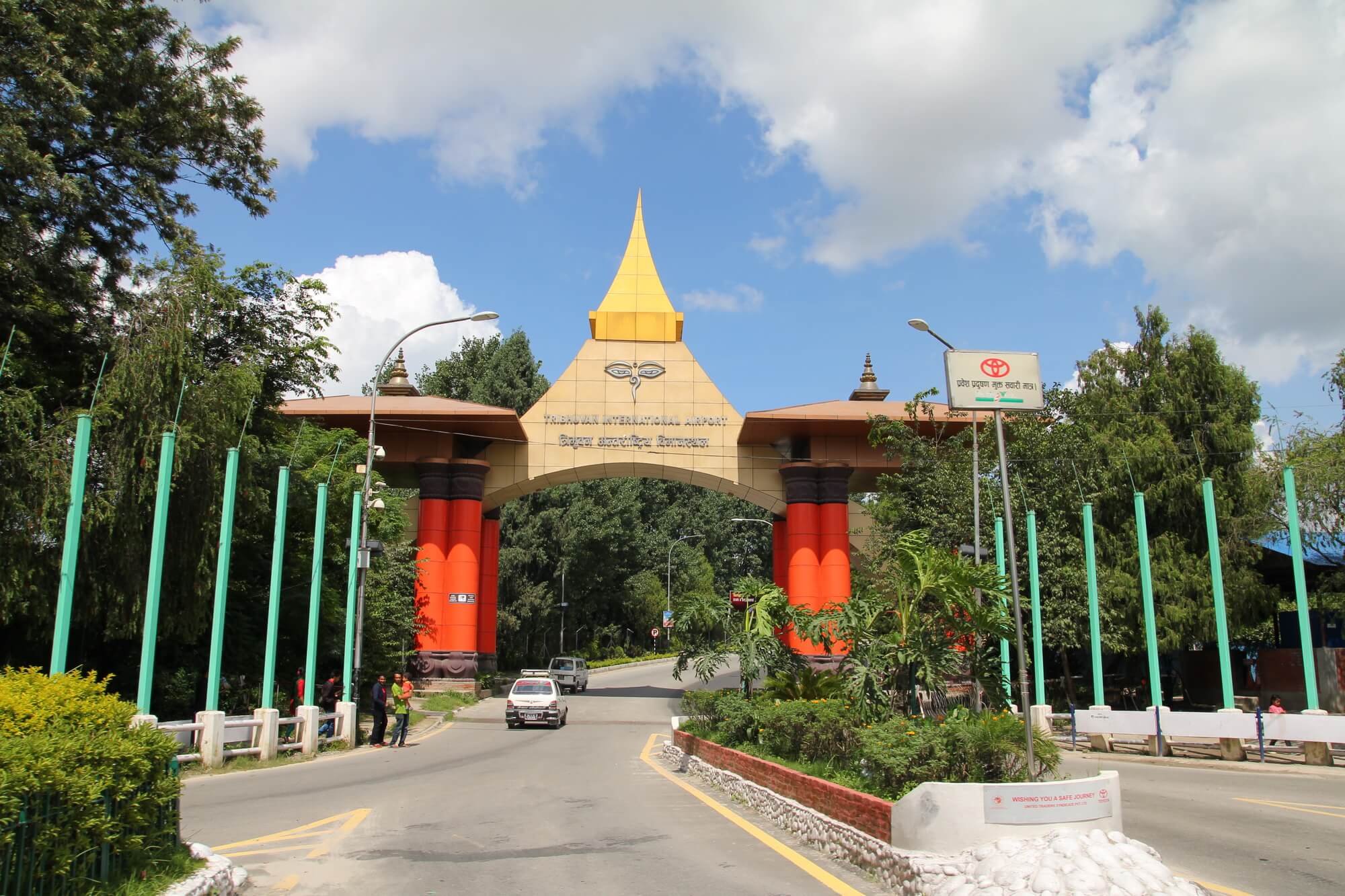 Kathmandu International Airport Facility
Aprons
Kathmandu International Airport apron can handle upto 15 aircraft at a time according to Civil Avation Authority of Nepal. But Airport can support only three wide category aircraft. The Eastern bay Kathmandu Airport can hold two wide bodies and two small aircraft. The eastern basin is used for parking unused and non-operational aircraft.
Two new international aprons are under construction the south of the present aprons. The domestic apron is adapting upto 35 aircraft. But the limitation of the apron is only 17. Kathmandu International Airpot helipad can handle upto 17 helicopters at a time.
International Airport Runway
The Kathmandu Tribhuvan international airport has a single runway of 3,350 meters—Kathmandu Airport lacks an Instrument Landing System. High-intensity centerline lights, bidirectional raised edge lights, threshold lights, and runway end lights are all installed on the runway. The two runways 02/20 have precision approach path indicator (PAPI) lights set at a 3° angle as landing aids. There are five places where the taxiways and the runway cross. Although the taxiway G parallels the runway, it is not connected to the thresholds.
Kathmandu Airport Terminals
Nepal's Kathmandu valley, Tribhuvan International Airport has two public terminals. One of the terminals is used for domestic traffic and another for international traffic. The international terminals can handle upto 2200 at their peak time, but the limitation of the Tribhuvan international airports is 1350 per hour. The government of Nepal has maintained a VIP terminal for guests. Separate terminals for helicopter is under construction as per information provided.
You can see several airlines like Yeti airlines, Buddha air, Tara air and Shree airlines have been collaborating with Radisson Hotel in Kathmandu to provide facilities to business class passengers once you check in. A duty-free shop, executive lounge other businesses serving foreign tourists are found in the departure area. The terminal building also has a luggage assistance desk, a place for mothers and older people, financial services, and pre-paid cab services to serve travelers. The domestic terminal is on the airport's northern side and is reachable via a free shuttle service that departs from the main entrance. The domestic terminal has designated 289 square meters for airline offices, 282 square meters for restaurants, and 58 square meters for restrooms in its temporary structure. A total of 765 passengers can travel through the terminal each hour.
Kathmandu Airport Location
The Tribhuvan international airport is located in the heart of Kathmandu valley, airport is 1 kilometer from Pashupatinath Temple. The area itself is called "Airport Area." Within a 6 to 7 km ride, you can reach the famous spot of Kathmandu, i.e., Thamel. After arriving in Kathmandu, you can easily find a hotel within 200m from the Tribhuvan international airport gate. Kathmandu airport is easily accessible by the ring road. The Tribhuvan international airport terminal has a bus service that runs between it and the city areas of Lalitpur and Kathmandu. Different local buses can also provide service from the main airport gate. Prepaid taxi services are found 24 hours in both domestic and international terminals.